Pages to Plate
Pages to Plate is a pop-up culinary event series providing guests with access to intimate book signings, cooking demonstrations & discussions.  The Cakery's 40-seat event space and demonstration kitchen provides the perfect opportunity to connect with chefs and authors.
Coming up next… 
Asian Pickles by Karen Solomon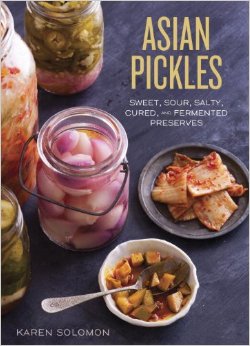 For Asian food aficionados as well as preservers and picklers looking for new frontiers, the Far East's diverse and sometimes spicy array of pickled products and innovative flavor pairings will wow the palate. In Asian Pickles, respected cookbook author and culinary project maven Karen Solomon introduces readers to the unique ingredients used in Asian pickle-making and numerous techniques beyond the basic brine. For the novice pickler, Solomon also includes a vast array of quick pickles with easy-to-find ingredients.  She's earning praise from several of her peers in the field- including Marisa McClellan (Preserving by the Pint & Food in Jars), Lauryn Chung (The Kimchi Cookbook) and Sandor Katz (The Art of Fermentation).  Join us for this Sunday Pickle class and learn from the best.    Demonstration of 2 recipes, your own copy of Asian Pickles to have signed by the author and samples from the book will be included for $25.
Call 503.546.3737 to reserve a space
*fee due upon reservation 
Past events include
(but are not limited to!)
Cookie Love
Mindy Segal
Flavor Flours
Alice Medrich
The Kitchn Cookbook
Faith Durand
Pie School
Kate Lebo
A Boat, A Whale & A Walrus
Renee Erickson
Toro Bravo
John Gorham & Liz Crain
Trophy Cupcakes
Jennifer Shea
Le Pigeon
Lauren Fortang
Whole Grain Mornings
Megan Gordon
Brassicas
Laura B. Russell
Preserving by the Pint
Marisa McClellan
Eggs on Top
Andrea Slonecker